Hanging Carrot Decorations
These Hanging Carrot Decorations will sure add some fun to your house for Easter! Use them for an Easter party, or around the house or classroom, even hanging on the door. These homemade decorations are so easy to make just from simple craft supplies, great for kids and adults to make!




Ages: 5 and Up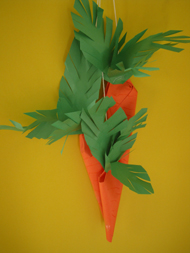 Here's what you'll need...
• Orange and green construction paper
• Scotch tape
• Scissors
• Stapler
• String or yarn



Here's how you make it...
1. Roll a piece of orange construction paper into a cone, tape to secure. You can cut off the top to make it even. Also, use double sided tape if you don't want the tape to show.



2. Staple the open end together to close.



3. Cut some leaf shapes from green construction paper (we made 3 leafs per carrot).



4. Cut a piece of string and staple the string and leaves onto the top of your carrot. Make 2 or 3 carrots and hang them all together.


Find more Easter Crafts like these Hanging Carrot Decorations