Love Train
This Love Train is an easy to make sweet treat for any Valentine. Any child would love to make or recive a candy train for Valentines Day, but this would also work great as a boys Valentine!
Level of Difficulty: Easy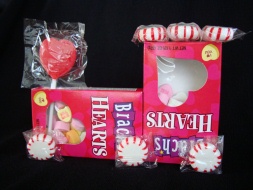 Here's what you'll need...

• 2 boxes of Conversation Hearts
• 1 lollipop
• 9 individually wrapped round candy (we used peppermints)
• Glue
• Pin or scissors



Here's how you make it...
1. Glue your two boxes together perpendicular to each other as shown in the picture.



2. This part can be a little tricky for little ones so an adult may have to help with this step. Poke a hole on the top of one of the boxes, you can do this with a pin or scissors. Slide the lollipop into the hole. If it is loose and wobbly you can always put a drop of glue where the lollipop meets the box.



3. Glue your peppermints on the front and back of your boxes to make the wheels of your train. Glue one on either end and one where the boxes meet.



4. Glue the last 3 peppermints flat, onto the top of your train, and you're done.



If you want to add a written message on your train you can always cut out a rectangle from white paper and write "Love Train" or another Valentines message and glue it on the front of your train. Be creative!


Sign up for our FREE Newsletter
The Busy Bee BUZZzzz
You'll get the BUZZzzz on our new crafts, featured crafts for up coming holidays and seasons, AND learn some fun and useful tips for doing kids crafts - all delivered to your inbox from busybeekidscrafts.com.
Your email address is totally secure, it is only used to send you the Busy Bee BUZZzzz.
Find more Valentine Crafts like the Love Train

Find more Edible Valentine Crafts