Mini Sumo Wrestler
This Mini Sumo Wrestler is an easy Japanese Craft for kids to make with our printable template to color! His legs and arms are made from a bendable pipe cleaners; make 2 and have your own sumo wrestling match!




Ages: 5 and Up
Younger children will need an adults help to put in the arms and legs!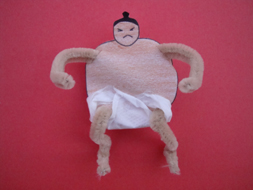 Here's what you'll need...
• Printed Sumo Wrestler to color*
• 2 pipe cleaners
• Colored pencils or crayons
• Glue
• Scissors
• Kleenex or tissue paper


* Instructions for template:
The template will open in a new window; close this window when you are done printing to return to the activity page. You will need Adobe Reader to open the template. If you do not have it you can download it for free
here
.

Here's how you make it...
1. Color and cut our your wrestler.



2. Using a craft knife or scissors cut the four slits along the dotted line on the front of your wrestler. Fold your pipe cleaner in half and insert it into the slit on one side out the opposite side. Repeat with the other pipe cleaner on the other side. Your pipe cleaners will be cris-crossed in the middle.



3. Fold your pipe cleaners into arms and legs.



4. Glue the on the back of your wrestler.



5. Cut a small triangle from a piece of Kleenex or tissue paper.



6. Make your Sumo Wrestler's Mawashi by gluing the triangle around his body and up through his legs.


Sign up for our FREE Newsletter
The Busy Bee BUZZzzz
You'll get the BUZZzzz on our new crafts, featured crafts for up coming holidays and seasons, AND learn some fun and useful tips for doing kids crafts - all delivered to your inbox from busybeekidscrafts.com.
Your email address is totally secure, it is only used to send you the Busy Bee BUZZzzz.