Orange Dream Pops
These Orange Dream Pops taste just as good as the ones from the ice cream truck, but they're much healthier! A great kids recipe to try on a hot summer day!




Level of Difficulty: Easy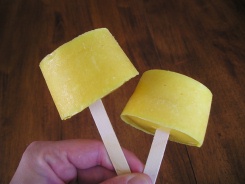 Here's what you'll need...
• 1 can (12oz) frozen orange juice concentrate
• 1 cup vanilla yogurt
• Bowl
• Popsicle tray (if you don't have a real Popsicle tray use paper cups and Popsicle sticks)

Here's how to make them...
1.In a big bowl, mix the partly thawed orange juice and yogurt together until well blended.
2.Scoop into Popsicle mold or paper cups and freeze for 4-5 hours.
If you are using paper cups for your dream pops, your popsicle sticks should stand right up in your cup before you freeze them. If they don't you can always put cling wrap around your cup and insert the stick through the wrap to keep it up right.


Sign up for our FREE Newsletter
The Busy Bee BUZZzzz
You'll get the BUZZzzz on our new crafts, featured crafts for up coming holidays and seasons, AND learn some fun and useful tips for doing kids crafts - all delivered to your inbox from busybeekidscrafts.com.
Your email address is totally secure, it is only used to send you the Busy Bee BUZZzzz.
Find more Every Day Edible Crafts like the Orange Dream Pops