Picture Puzzle
This Picture Puzzle is a unique, personalized gift idea that anyone would love to recieve, and it's a super fun kids craft to make as well!


Level of Difficulty: Moderate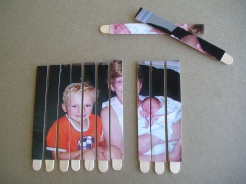 Here's what you'll need...
• Picture (4X6 size)
• 12 popsicle sticks
• Glue
• Scissors



Here's how you make it...
1. Turn your picture over and glue the popsicle sticks on the back. They should be flush with the top of the picture and leave some stick hanging out at the bottom (that way you'll know what is the 'bottom' of your puzzle). Make sure you leave enough room between the sticks to allow a pair of scissors through (at least 1/8").



2. With your scissors, cut inbetween each stick. You've just created a great personalized puzzle, to give or keep.
If you want a container to keep your puzzle pieces in, decorate an old box (necklace size) or make a fancy jar like our stained glass jar , a great gift giving idea!!


Sign up for our FREE Newsletter
The Busy Bee BUZZzzz
You'll get the BUZZzzz on our new crafts, featured crafts for up coming holidays and seasons, AND learn some fun and useful tips for doing kids crafts - all delivered to your inbox from busybeekidscrafts.com.
Your email address is totally secure, it is only used to send you the Busy Bee BUZZzzz.
Click here to find more Holiday Crafts like the Picture Puzzle