Rainy Day Collage
You don't need to make this Rainy Day Collage only on a rainy day, it's a great craft for spring time or when learning about the weather. A great craft for Preschoolers and kindergartners!


Ages: 3 and Up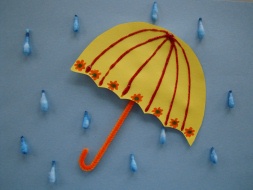 Here's what you'll need...
• Q tips
• Small container
• Plate (microwave safe)
• Blue food coloring
• Construction paper
• Pipe cleaner
• Glue
• Scissors



Here's how you make it...
1. First you will need to make your rain drops. Break the ends off of a bunch of Q Tips. Put a small amount of water in a small container and add 6-8 drops of blue food coloring. Dip your Q Tips into the water and lay on a plate. If you are making these a day or so ahead of time you can leave your Q tips out to dry overnight. If you need them right away you can put them in the microwave, on high, for 5-6 minutes or until they are dry.



2. Cut out a construction paper umbrella and make your handle with a piece of pipe cleaner.



3. Decorate your umbrella any way you wish. We used glitter glue and markers, you can use anything you have around the house or classroom... stickers, stamps, paint, sequins, be creative! Once you're finished, glue your umbrella and handle onto a piece of blue construction paper.


4. Glue on your blue Q Tip raindrops and you're all finished!
Another option for this collage is to add some cotton ball clouds up on top.


Sign up for our FREE Newsletter
The Busy Bee BUZZzzz
You'll get the BUZZzzz on our new crafts, featured crafts for up coming holidays and seasons, AND learn some fun and useful tips for doing kids crafts - all delivered to your inbox from busybeekidscrafts.com.
Your email address is totally secure, it is only used to send you the Busy Bee BUZZzzz.