Tepee Village
This Tepee Village Craft is an easy and fun way to learn about Native American Culture! This collage is made with simple materials found around the house!


Ages: 4 and Up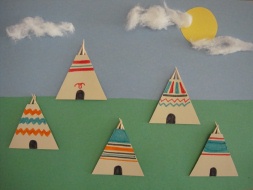 Here's what you'll need...
• Construction paper
• Toothpicks (3 for each Tepee)
• Markers or crayons
• Glue
• Scissors
• Cotton ball


Here's how you make it...
1. Prepare your paper. Cut a strip of green paper, for the grass, and glue it onto a full piece of sky blue paper.



2. Cut triangles out of paper and cut off the top tips. We used light brown paper for our Tepee's.


3. Decorate your Tepee's with markers, crayons or other embellishments.



4. Turn your Teepee's over and glue 3 toothpicks on the back of each one. One toothpick on either side and one in the middle.



5. Glue your Tepee's all over your grass to make your village.


6. To finish off your collage cut out a yellow sun and pull apart some cotton ball clouds to glue onto your paper.


Sign up for our FREE Newsletter
The Busy Bee BUZZzzz
You'll get the BUZZzzz on our new crafts, featured crafts for up coming holidays and seasons, AND learn some fun and useful tips for doing kids crafts - all delivered to your inbox from busybeekidscrafts.com.
Your email address is totally secure, it is only used to send you the Busy Bee BUZZzzz.