---
Tire Track Roller
Put the kids in the drivers seat with this fun Tire Track Roller craft! This is a great truck or transportation craft for preschoolers on up!




Ages: 3 and Up
Preschoolers will need help making the roller, but they will love to paint with it!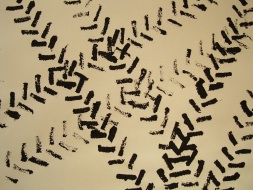 Here's what you'll need...
• TP roll
• Pipe cleaner (any color will do)
• Glue
• Wire cutters or kitchen scissors
• Paper
• Paper plate or shallow container
• Paint



Here's how you make it...
1. Cut pieces of pipe cleaner ¾" to 1" long. Glue them onto your tp roll diagonally, one in front of the other as shown in the picture. Make sure you are gluing the pipe cleaners at the edge of the tp roll.



2. Glue the pipe cleaner pieces all around both edges of the tp roll. Let the glue dry.



3. Now you're ready to start driving! Pour a small amount of paint into a paper plate or shallow container. Roll your tp roll into the paint. Place a finger in the middle of the roller and start driving all over a piece of paper!
It's important that your pipe cleaners are glued all the way to the edges of the tp roll, otherwise paint will get on the roll as well as the pipe cleaners and the end result won't be as great.
This craft is really fun when you use a big sheet of butcher paper or brown package paper, the kids can 'drive' all over the place. Make it even more fun by drawing streets and houses on your paper first, and use different colors of paint for each vehicle if there's more than one child 'driving'. A great craft for a transportation theme party as well!


Sign up for our FREE Newsletter
The Busy Bee BUZZzzz
You'll get the BUZZzzz on our new crafts, featured crafts for up coming holidays and seasons, AND learn some fun and useful tips for doing kids crafts - all delivered to your inbox from busybeekidscrafts.com.
Your email address is totally secure, it is only used to send you the Busy Bee BUZZzzz.
Find more Painting Crafts like this Tire Track Roller
Find more Transportation Crafts for Kids