Umbrella Wrapped Utensils
Dress your spring table with these adorable Umbrella Wrapped Utensils. A very easy craft for spring time!




Ages: 4 and Up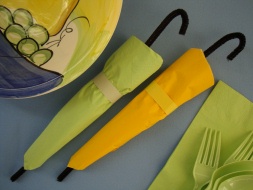 Here's what you'll need...
• Napkins
• Utensils
• Construction paper
• Glue or tape
• Black pipe cleaner (one for each umbrella)



Here's how you make them...
1. Have a look at your napkin, you'll notice one corner where all the folds come together, and the opposite corner is open. Cut about 2" from the tip of the open corner.



2. Bend the end of a black pipe cleaner so that it looks like the handle of an umbrella. Insert your utensils and pipe cleaner into the fold of the napkin. Make sure the eating ends of the utensils are facing up - this will give your umbrella the right shape.



3. Wrap the napkin around the utensils.


4. Cut a small strip of construction paper, wrap it around your umbrella to make the strap. Secure it with a dab of glue or small piece of tape. Poke your pipe cleaner through the napkin to make the tip of your umbrella.
Place these napkin bundles on your table with the seam facing down and enjoy!


Sign up for our FREE Newsletter
The Busy Bee BUZZzzz
You'll get the BUZZzzz on our new crafts, featured crafts for up coming holidays and seasons, AND learn some fun and useful tips for doing kids crafts - all delivered to your inbox from busybeekidscrafts.com.
Your email address is totally secure, it is only used to send you the Busy Bee BUZZzzz.
Find more Spring Crafts like these Umbrella Wrapped Utensils