Valentine Pretzels
Not only are these Valentine Pretzels fun and easy to make, they're also a yummy treat for someone you love. You can make these heart pretzels pink inside and then sprinkle cinnamon and sugar on top!
Age: 3 and up

Make this easy for preschoolers by making the dough and 'rolling' it into thin 'ropes' they can use to make their heart shapes.

Here's what you'll need...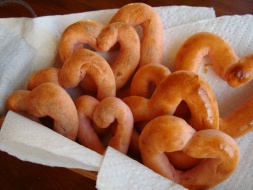 1 Tablespoon active dry yeast
(1 pkg)
½ cup lukewarm water
2 eggs, beaten
½ cup olive oil (or other cooking oil)
1 cup milk
Red food coloring (optional)
1 teaspoon salt
5 ½ cups all purpose flour
⅓ cup sugar
1 egg beaten
¼ cup sugar
½ teaspoon cinnamon


Here's how to make them...
1. In a large bowl, dissolve the yeast in the lukewarm water and stir in the eggs, oil and milk. If you want your pretzels pink add 6-8 drops of red food coloring into the milk mixture.
2. In a separate bowl, combine all of the dry ingredients and then add to the egg and oil mixture.
3. Knead for 5-10 minutes until the dough is smooth and rubbery. If your dough is too sticky add in some extra flour, ¼ cup at a time.
4. Roll the dough into ropes, about the diameter of an adults' pinky finger, and about 1-2 feet long.
5. Now it's time to make your hearts. You can make it easier for younger children by drawing a heart on parchment paper to use as a guide.
6. On a paper plate mix the sugar and cinnamon. Brush the tops of each heart with egg and dip into the cinnamon-sugar mixture. Place each heart on a greased (or parchment lined) baking sheet. Bake at 425F for 10-15 minutes. Then enjoy!!


Sign up for our FREE Newsletter
The Busy Bee BUZZzzz
You'll get the BUZZzzz on our new crafts, featured crafts for up coming holidays and seasons, AND learn some fun and useful tips for doing kids crafts - all delivered to your inbox from busybeekidscrafts.com.
Your email address is totally secure, it is only used to send you the Busy Bee BUZZzzz.
Find more Valentine Crafts for Kids

Find more Edible Valentine Crafts
like these Valentine Pretzels