You Warm My Heart
The You Warm My Heart Valentine is a mug that you slide a real package of hot chocolate in. A Valentine with a little gift will warm anyone's heart!
Age: 5 and up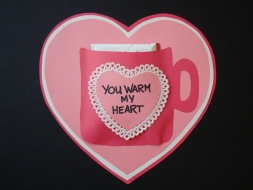 Here's what you'll need...
• Construction paper
• Scissors
• Pencil
• Marker
• Glue
• Packet of Hot Chocolate
• Doily (optional)



Here's how you make it...
1. Place your packet of Hot Chocolate onto a piece of construction paper. Draw a mug shape around the packet, making sure your mug is 3/4" to 1" larger around than the package. Cut out your mug.



2. Cut out a heart from construction paper. Make sure it's big enough for your mug to fit inside.



3. We added 2 extra layers of paper around our heart. Glue your heart on another piece of paper and cut around it to make another heart shape, and repeat with another color of paper.



4. Cut out a smaller heart to put on the front of your mug. Write on it: "You Warm My Heart". If you have a doily you can glue your heart onto the doily and then glue it to your mug.
5. Put glue around all the edges and handle of the mug (don't put any glue on the top!), and glue onto your big heart.
6. When the glue is dry, slide your packet of Hot Chocolate into the mug.

We recommend that you use more than 1 paper heart for this Valentine, the Hot Chocolate package is a little heavy and needs something sturdy to sit in. If you only want to cut out 1 heart you'll need to use a heavier paper like card stock.


Sign up for our FREE Newsletter
The Busy Bee BUZZzzz
You'll get the BUZZzzz on our new crafts, featured crafts for up coming holidays and seasons, AND learn some fun and useful tips for doing kids crafts - all delivered to your inbox from busybeekidscrafts.com.
Your email address is totally secure, it is only used to send you the Busy Bee BUZZzzz.
Find more Valentine Crafts like the You Warm My Heart Valentine

Find more Edible Valentine Crafts