Bubble Stamping
This Bubble Stamping is so easy and so much fun! This can make some great artwork, it would also be a cute idea to make your own homemade gift wrap! A great craft for preschoolers!


Level of Difficulty: Easy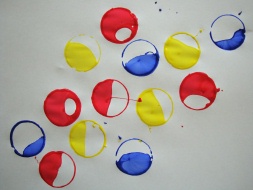 Here's what you'll need...
• Toilet paper roll(s)
• Tempera paint
• Paper plate or shallow dish
• Paper





Here's how you make it...
1. Pour some paint into a paper plate or shallow dish. Your paint blob should be big enough to submerge the end of the TP roll. Dip your TP roll into the paint and you'll notice a 'bubble film' form on your roll.



2. Stamp your "bubble" onto a sheet of paper and repeat. You'll need 1 TP roll for each color of paint (unless you want your colors to mix).
You can do a lot of stamping with 1 TP roll, but if you are doing this craft with a group of kids keep in mind that the TP roll will get soggy after a while, so have some extras on hand!
If you like this craft check out Snowman Stamping , a great winter variation of this painting craft!




Sign up for our FREE Newsletter
The Busy Bee BUZZzzz
You'll get the BUZZzzz on our new crafts, featured crafts for up coming holidays and seasons, AND learn some fun and useful tips for doing kids crafts - all delivered to your inbox from busybeekidscrafts.com.
Your email address is totally secure, it is only used to send you the Busy Bee BUZZzzz.
Click here to find more Summer Crafts like Bubble Stamping
Click here to find more Bubble Crafts
Click here to find more Painting Crafts