Chief Headdress
This colorful Chief Headdress is an easy Native American craft for preschoolers on up! Make your feathers with as many colors as you can!


Ages: 3 and Up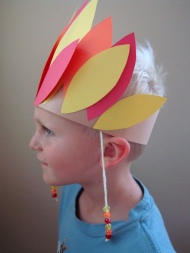 Here's what you'll need...
• Construction paper
• Glue
• Yarn and beads (optional)
• Scissors






Here's how you make it...
1. Make a paper band to fit around the child's head.



2. Cut feathers out from different colored paper, cut 2 different sizes (an adult can prepare this ahead of time for the younger ones).



3. Glue feathers all over your band. You can glue the bigger feathers at the front of your headdress and the smaller ones at the sides.



4. Cut 2 lengths of yarn or string about 6 inches long. Tie a knot at the end and string beads onto the yarn.



5. Glue or tape the yarn onto the inside of your Chief Headdress, by your ears.
You could also glue feathers onto the ends of the beads, if you don't have beads you could also use small macaroni; color it by using our Macaroni Paint Recipe


Sign up for our FREE Newsletter
The Busy Bee BUZZzzz
You'll get the BUZZzzz on our new crafts, featured crafts for up coming holidays and seasons, AND learn some fun and useful tips for doing kids crafts - all delivered to your inbox from busybeekidscrafts.com.
Your email address is totally secure, it is only used to send you the Busy Bee BUZZzzz.