Pasta and Rice Paint
With this Pasta and Rice Paint recipe you can make all kinds of different colors of macaroni and rice to make many different craft projects. Colored macaroni and rice can add so much texture to children's art!


Level of Difficulty: Easy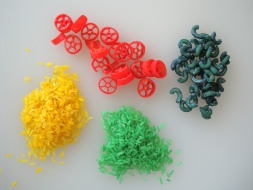 Here's what you'll need...
• Rice and/or pasta
• Zipper baggie(s)
• Water
• Food coloring
• Wax paper
• Baking sheet
Here's how you make it...

1. Pour 1 teaspoon of water and 6 drops of food coloring into the corner of your zipper baggie. For macaroni double the amount of food coloring, since macaroni is natrually yellowish, your blue will look like green and your red like orange if you don't add a lot of food coloring.



2. Add 1/2 cup of rice or macaroni to your baggie, seal it, and squish it around until it is well covered.



3. Spread on a wax paper-lined baking sheet and let dry. It will take 1/2 hour to an hour to dry and be ready to use, depending on your climate.





This is such a great way to add texture and color to art projects. Check out some of our crafts that have used this craft recipe:
Touch N Feel Winter Scene , Touch N Feel Fall Scene , Dirt Race Track , Prickly Wreath , and Prickly Christmas Tree


Sign up for our FREE Newsletter
The Busy Bee BUZZzzz
You'll get the BUZZzzz on our new crafts, featured crafts for up coming holidays and seasons, AND learn some fun and useful tips for doing kids crafts - all delivered to your inbox from busybeekidscrafts.com.
Your email address is totally secure, it is only used to send you the Busy Bee BUZZzzz.
Click here to find more Craft Recipes like the Pasta and Rice Paint