Easter Bunny
Napkin Holder
These adorable Easter Bunny Napkin Holders are a great addition to any Easter table. This easy kids craft is made with a toilet paper roll, construction paper, paint and a napkin. Surprise your Easter dinner guests with the Easter Bunny peaking through the grass!




Level of Difficulty: Moderate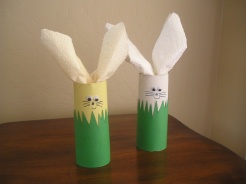 What you'll need...
•Toilet paper roll
•Paint and brush (same color as napkins)
•Black Marker
•Napkins
•Green construction paper
•Cotton ball
•2 google eyes (optional)

Here's how to make it...
1. Paint the top 2/3 of the toilet paper roll with paint that is the same color as your napkin.



2. Cut a long strip of green construction paper to fit around the TP roll (a rectangle measuring 51/2"X 3" will fit nicely around your roll). Cut small triangles out of the top third or so to make the "grass." Once the paint is dry glue the grass around the (unpainted) bottom of the TP roll. Now it is time to draw on your bunny's face with the black marker, glue on your google eyes if you have them, if not, just draw them on.



3. Fold your napkin in half to make a triangle. Then fold the tip of the triangle down. Insert your bunny's ears into the top of the napkin holder! Glue a cotton ball onto the back of the TP roll for the bunny's tail! You're done, great job!




Sign up for our FREE Newsletter
The Busy Bee BUZZzzz
You'll get the BUZZzzz on our new crafts, featured crafts for up coming holidays and seasons, AND learn some fun and useful tips for doing kids crafts - all delivered to your inbox from busybeekidscrafts.com.
Your email address is totally secure, it is only used to send you the Busy Bee BUZZzzz.
Click here for more Easter Craft ideas like the Easter Bunny Napkin Holder
Find more Animal Crafts made from Toilet Paper Rolls