Spaghetti Paint
This unique Spaghetti Paint will excite any child! What child doesn't like to smoosh their hands in noodles and then make a unique painting, that can also be hung up proudly to display!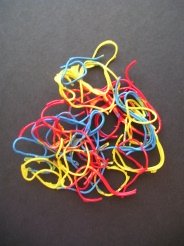 Level of Difficulty: Easy
Here's what you'll need...
• Spaghetti, cooked and cool
• Paint
• Glue
• Bowl and spoon
• Scissors
• Wax paper
• Cookie Sheet




Here's how you make it...
1. Mix 1 Tablespoon of Glue with 1 Tablespoon of paint in a bowl. Add 1 Cup of cooked, cooled spaghetti and stir until the spaghetti is covered (if you want to use more or less spaghetti just remember, one part glue, one part paint). If you are using more than one color just place one color on a paper plate or wax paper and clean out your bowl and mix another color.

2. Take the spaghetti a piece or two at a time and arrange it on the wax paper in what ever design you choose.
3. Once you've finished your painting, cut the wax paper around the noodles and slide onto a cookie sheet. Let dry at least overnight (it may need 2 nights) and then peal off the wax paper. Hang your creation by tying a string through the top.
If your doing this craft with toddlers it may help to contain the noodles if you draw a circle or square on the wax paper and tell them to make their 'painting' inside the shape! Or, let them make it in a paper plate - hang it after it dries by punching two holes on either side of the plate and tying on a piece of yarn.
This can be used for so many great crafts, check out these other variations: Spaghetti Nest , Spaghetti Christmas Ornaments, and, Spaghetti Spider Web


Sign up for our FREE Newsletter
The Busy Bee BUZZzzz
You'll get the BUZZzzz on our new crafts, featured crafts for up coming holidays and seasons, AND learn some fun and useful tips for doing kids crafts - all delivered to your inbox from busybeekidscrafts.com.
Your email address is totally secure, it is only used to send you the Busy Bee BUZZzzz.