Woven Easter Basket
Decorate your own eggs and put then in this colorful Woven Easter Basket. A fun way for kids to celebrate Easter traditions!


Ages: 5 and Up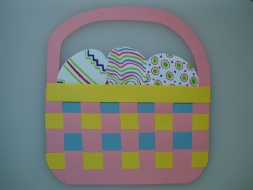 Here's what you'll need...
• Construction paper
• White paper
• Scissors
• Glue
• Markers, stickers or other embellishments



Here's how you make it...
1. Cut out a basket shape from construction paper.



2. Cut long slits all the down the basket, but don't cut all the way through.



3. Cut strips of colored paper.



4. Starting at the bottom, weave the paper strips through the slits in your basket, and glue to secure. Trim off any excess paper at the sides of the basket. You can also glue a solid strip at the top of the basket to give it a finished look. If you wish, cut out a handle from construction paper and glue it onto your basket,



5. Cut out eggs from white paper and decorate them any way you wish. We used markers you can use stickers, glitter glue or any thing else you have around the house or classroom. If you want to try something really neat, have the kids put Pastel Paper Eggs in their basket!
You have a couple of options on how to finish this craft. You can glue the entire Basket onto a piece of construction paper, OR you can glue an extra strip of paper on the back to hide the bottom of the eggs and the kids can carry it by the handle.


Sign up for our FREE Newsletter
The Busy Bee BUZZzzz
You'll get the BUZZzzz on our new crafts, featured crafts for up coming holidays and seasons, AND learn some fun and useful tips for doing kids crafts - all delivered to your inbox from busybeekidscrafts.com.
Your email address is totally secure, it is only used to send you the Busy Bee BUZZzzz.